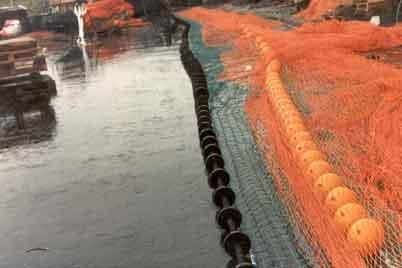 English
Crimond designs and manufactures Scottish Seines
The fishing technique was first developed in Denmark and was called Danish seining. Then the Scotsmen picked it up and adapted it to their own conditions. It is not like trawling which uses heavy doors and trawls—Scottish seining is done by shooting out a mile of ropes on each side of a lightly constructed net. When the circle is complete the boat goes slowly ahead towing and heaving in the ropes simultaneously. David Thomson compared Scottish Seining to Trawling as a "Rapier to a sledgehammer" and this is basically true.
At this time there is a renewed interest, especially by France and Holland, to change to this method as it has a drastically reduced fuel consumption and is not hard on the bottom—ie: more environmentally friendly.
David Tait, Sr., President of Crimond Enterprises, fished with this method on his own vessel in Scotland for nearly 15 years. Since then he has been technical advisor to several technology transfer projects and innovations in the US, Canada, and Guatemala. This work entailed teaching Skippers and crews the technique of Scottish Seining.
When David Tait, Sr., came to Canada one project he was heavily involved in was deck equipment called Self Hauling Rope Reels. The project was in 1984, in Caraquet New Brunswick, and was a complete success. Tait, Sr., took the idea to Europe in the 1980's and they refused to believe it could be done and did not adopt the idea. However they are now constructing this type of Rope Reels in several European countries. 
Crimond designs and manufactures Scottish Seines. As an experienced ex-skipper, Tait, Sr., has the expertise to consult on gear selection and all aspects of techniques, including the selection and siting of deck machinery.
Crimond SCOTTISH SEINES" 150 H.P. to 1,500 H.P.
DESIGN FEATURES
Crimond Scottish Seines are a product of computer aided, three dimensional design techniques. The company has vast experience in the technique of Scottish Seining. The Scottish Seines are designed in 2 seam or 4 seam configuration and are used to fish roundfish, or flatfish species. They are supplied to the top earning Scottish Seiners in Eastern Canada. The nets are constructed of Braided Polyethylene and the footgear is either the traditional coir rope with lead rings, or miniature Rockhopper gear, which allows seining on hard bottom.
The Scottish Seines are normally used to fish the following species: Cod, Haddock, Pollack, Hake, Flounder, etc. and are used on good to medium ground by a variety of vessels with different horsepower.
Before a Scottish Seine is constructed, Crimond requires certain parameters from the customer which are then generated through a database to determine the net size to suit the particular vessels horsepower.
As with other Crimond trawls, scale models are usually tested in a Flume Tank, and these results are verified by commercial testing at sea with full scale gear.
Example of some SCOTTISH SEINE SIZES (Mouth Circumference)
 
TW. Size
Headline (Ft.)
Footrope (Ft.)

T.S.A.

-328 x 15 cm Mesh
2.5 mm
154
126
33.6
-368 x 15 cm Mesh
3 mm
314
344
121.2
-492 x 15 cm Mesh
2.5 mm
152
180
75.1
-576 x 15 cm Mesh
2.5 mm
172
200
 
-620 x 15 cm Mesh
2.5 mm
182
210
 
-740 x 15 cm Mesh
3 mm 
259